Hiking America is a 'living' compilation of route directions and services information for the American Discovery Trail - a Trans-America trail from California to Delaware.
In addition, Hiking America has the only collection of maps for the entire trail.
And all of this data is available on the Gaia GPS app and updated daily!
Utilizing digital online resources, personal trail reports, and tips, Hiking America strives to be the most up-to-date compilation of route changes, conditions, and resources, for the American Discovery Trail hikers.
Hikers, bikers, and others traveling parts or all of the American Discovery Trail are encouraged to submit updates, additions, and corrections - be it a missing sign, a great restaurant, campsite, water source, or other tips to help others following in your footsteps.
Send Updates/Corrections/Suggestions to john@HikingAmerica.com
Current Statistics as of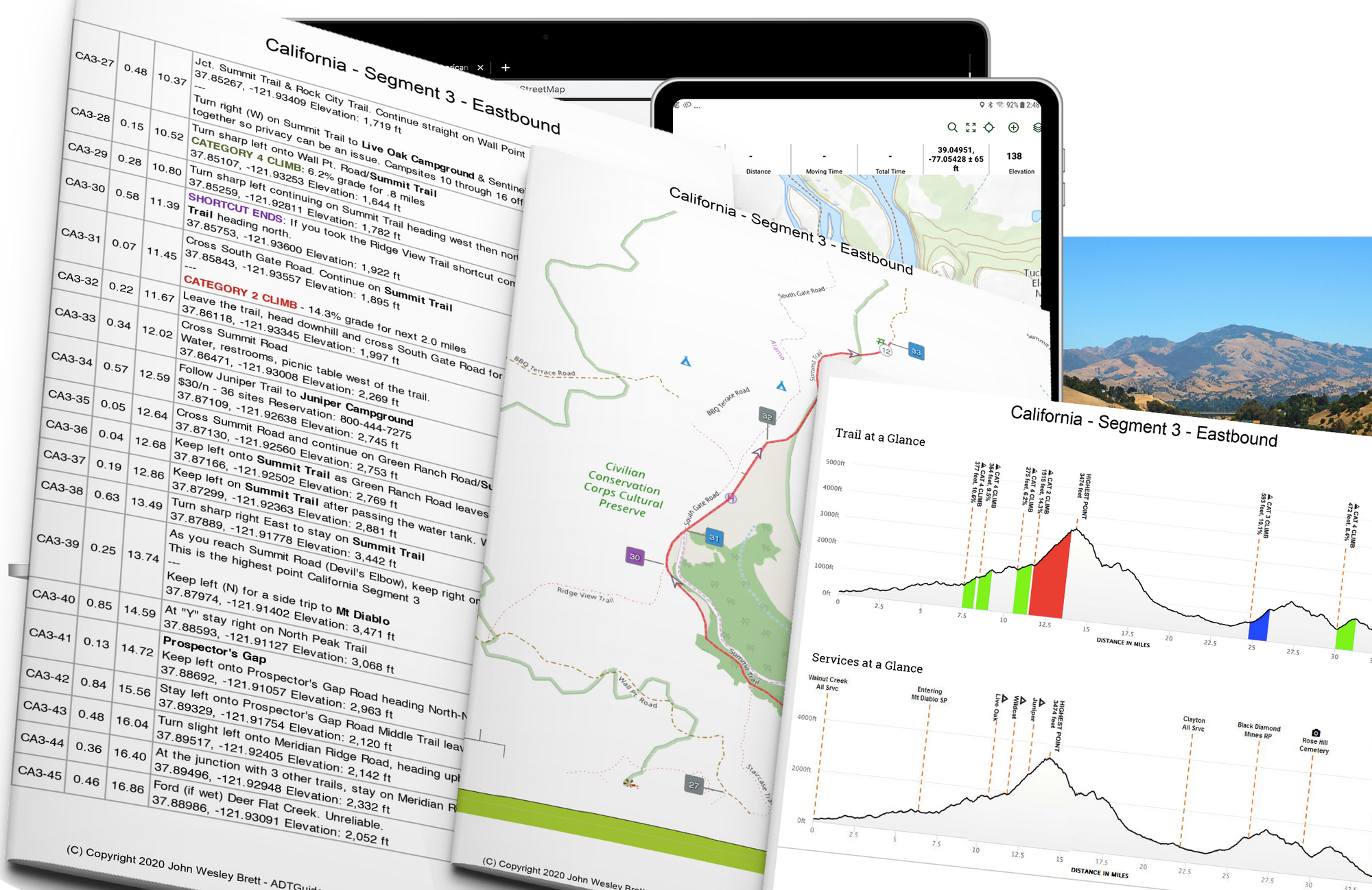 Hiking America Directions and Maps
The backbone of Hiking America is our American Discovery Trail directions and maps, which utilize simplified navigation notations.
* White Arrows indicate the direction of travel.
* Mile Markers are listed almost every mile and indicated inside a white circle.
* Turns and other waypoints are listed in numerical order and shown in a color-coded box.
BLUE Turns or Change in Direction
BLACK Entering important areas - Cities, Towns, Reservations
GREY Informational - Cross-Streets or trails, points of interest
ORANGE Services - Restaurants, Grocery Stores, Resupply stores
RED Danger or areas of extreme caution
PURPLE Shortcuts or other alternatives to the trail
GREEN Campground and Park Information
---
Climb Categories:
One person's hard hike is another person's easy hike. As there are numerous factors that go into the difficulty of a climb (fitness of the hiker, the weight of the pack, etc.), especially on long-distance hikes, we use a simple calculation to create a standardized reference to compare one climb to another. You, personally, can then gauge the difficulty of a climb for you.
We multiply the length of the climb in miles by the gradient of the climb in percent to determine a score.
This score determines the Category as follows (from 4-easiest to 0-extreme):
| | |
| --- | --- |
| Category 4 | 5 to 9 |
| Category 3 | 10 to 19 |
| Category 2 | 20 to 39 |
| Category 1 | 40 to 49 |
| Category 0 | 50 or above |
| | |
For example, a climb that goes on for 1mi at an average gradient of 12.5% has a score of 1 x 12.5 = 12.5, which equates to Category 3.
History
Hiking America, formerly known as The ADT Guide, began as a complete, detailed audit of the American Discovery Trail following reports of lost hikers and outdated directions.
Today HikingAmerica.com is a repository of those initial audit findings - first published in February of 2019 and continuously updated ever since.
In the spring of 2019, we began creating and producing the only set of Maps of the American Discovery Trail, directions for Eastbound Hikers, and waypoints for use exclusively in the Gaia GPS app.
So, Let's Go!
Check back frequently for the latest updates and crowdsourced reports from the trail. Or subscribe and receive updates in your inbox for free!
With the Hiking America collection of tools – directions, maps, and GPX waypoints – you are well on your way to planning and preparing yourself for the adventure of a lifetime – #HikingAmerica
Hike your Hike - John.