Extreme Athlete Jonas Diechmann is on the ADT - for 2nd time - this year!
Extreme athlete Jonas Diechmann is underway on a 100-day run eastbound on part of the American Discovery Trail after a 20-day westbound cycle, forging friendships and inspiring many.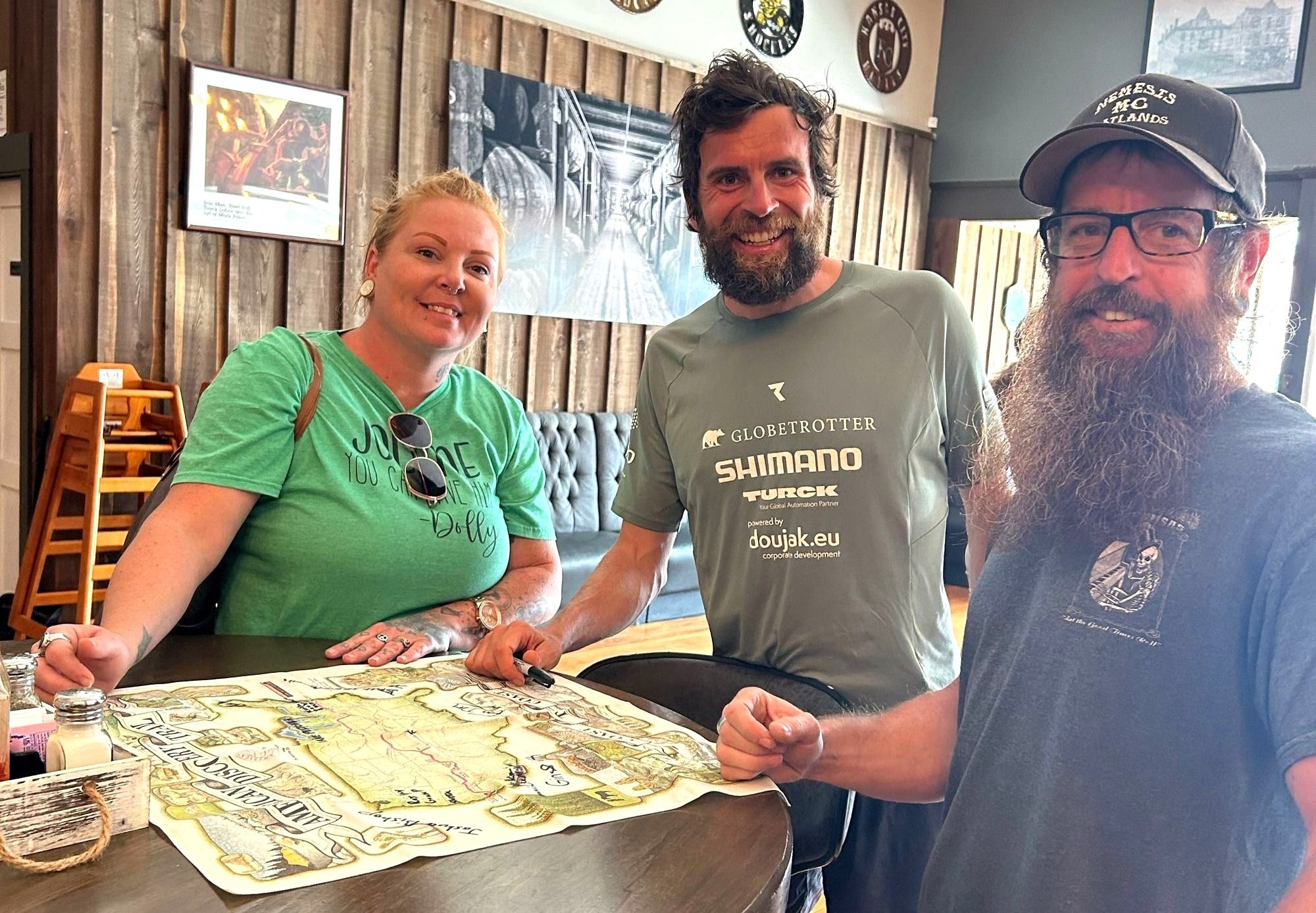 Extreme athlete Jonas Diechmann (above center) passed through Kansas this month, running eastbound along part of the American Discovery Trail Southern Route. Diechmann, known for his extraordinary endurance and passion for extreme sports, is running from Los Angeles to New York in a planned 100 days after having cycled it westbound along part of the ADT Northern Route in just 20 days in June and July.
In Herington, KS, Jonas met up with the renowned Kansas Trail Angels, Ryan and Dani Stevenson (above). The Stevensons are known for their warm hospitality and support of ADT travelers. They have a unique tradition - they have all hikers/bikers/runners they meet to sign their American Discovery Trail bandana.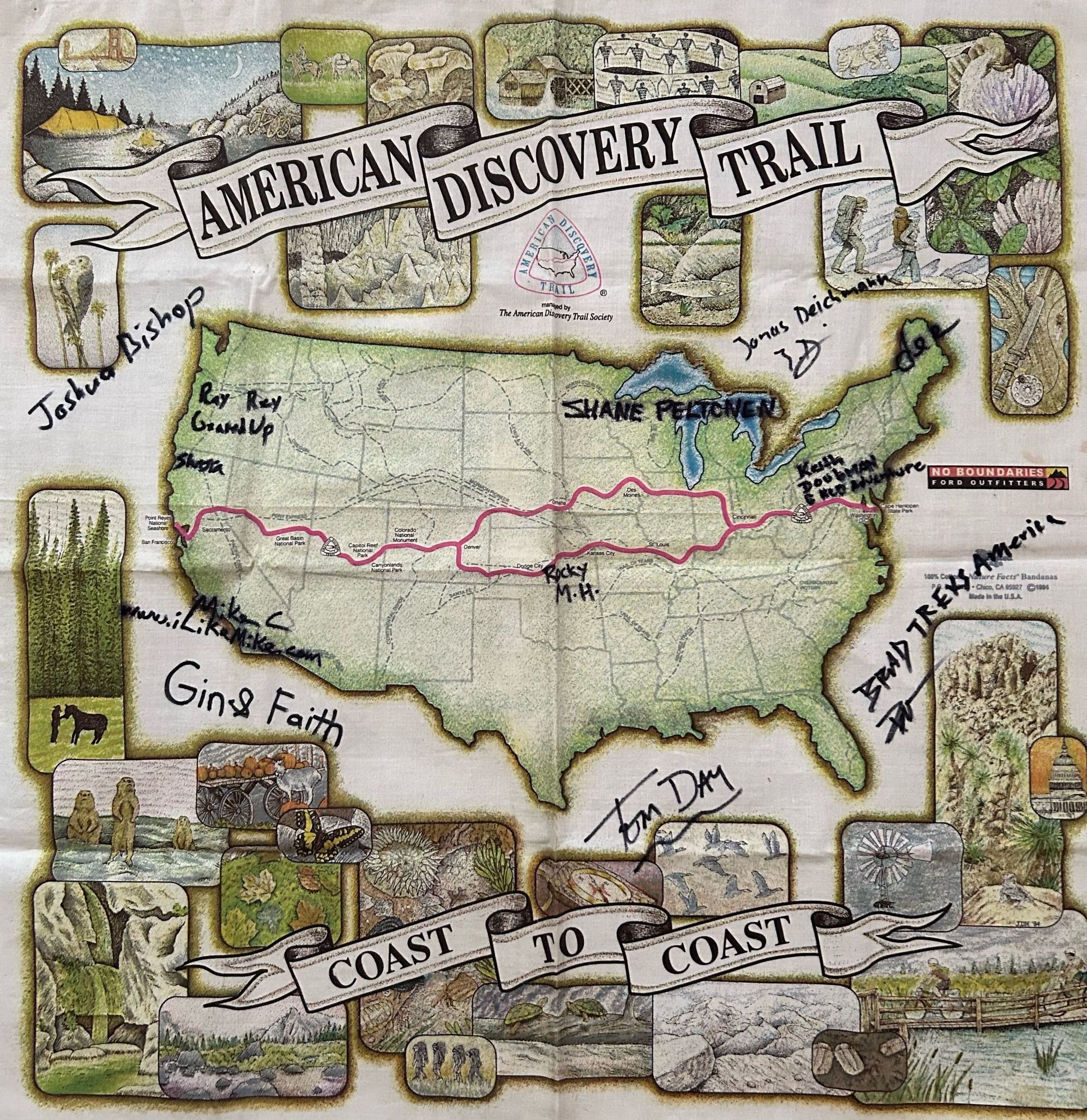 Jonas became the twelfth signature on the bandana (just above New York state), leaving a mark on his journey and joining the ranks of other adventurers who have crossed paths with the Stevensons. This bandana symbolizes unity, friendship, and the shared experiences of those traversing the American Discovery Trail.

---
[NEW Partner!]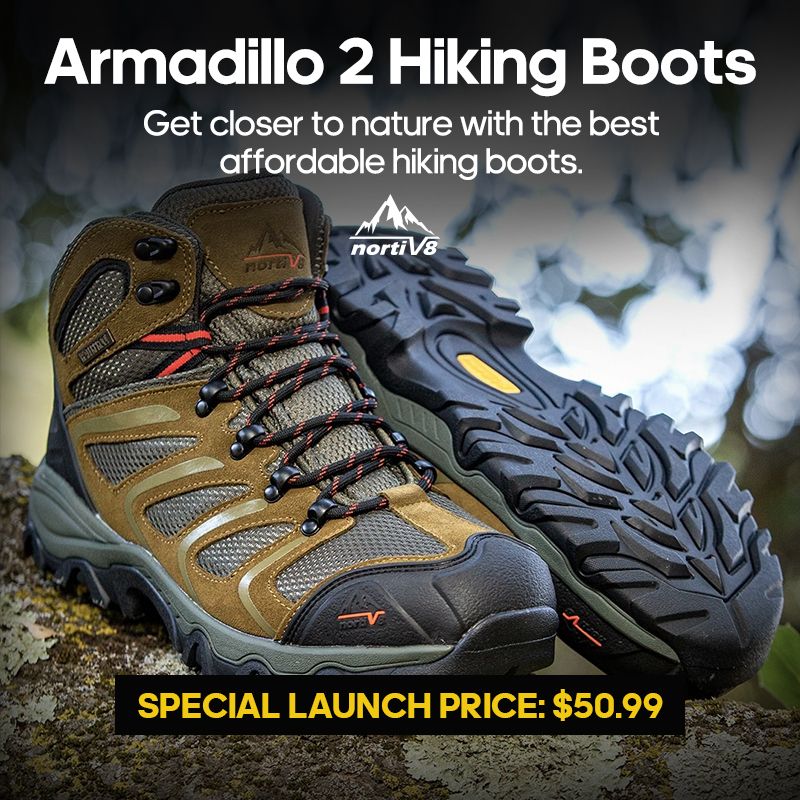 Embark on your next journey with the new and improved Nortiv8 Armadillo 2 Men's Hiking & Walking Boots! Whether traversing rugged terrains or walking through the city, these boots are your perfect companion! Waterproof! Fleece lining is available! The #1 Backpacking Boot on Amazon.
---

McPherson to Lawrence
And speaking of the Stevensons, their contact information is in our guides for these two eastern sections of Kansas along the ADT Southern Route. This month, Ryan shared seven pages of new suggestions and Hiker Note updates, which are now included in the Hiking America guides and Gaia GPS data.
Marshalltown to Waterloo
After a prolonged closure, the Cedar Valley Lakes Trail (CVLT) in George Wyth State Park has reopened, following extensive repairs to mend the substantial damage incurred from severe flooding experienced a few years prior. The CVLT is notably recognized as the northernmost point of the American Discovery Trail.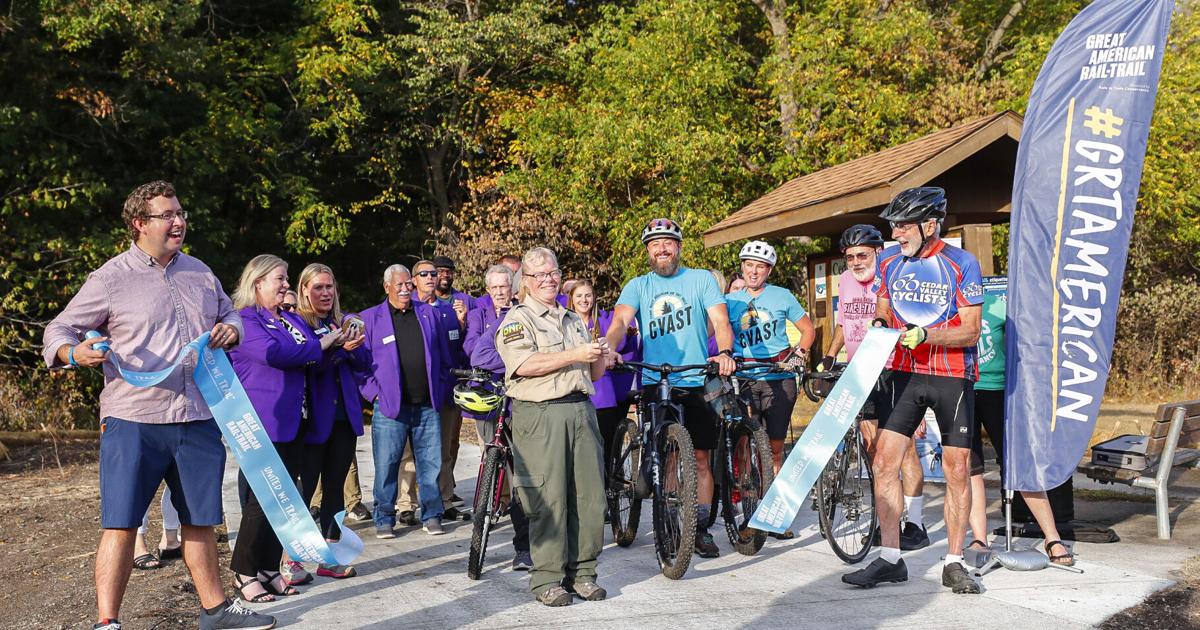 The previously implemented detour has been removed, and the trail has been restored and modernized. Hiking America maps, guides, Gaia GPS tracks, and waypoints have been updated.
Additionally, an alternative route along the Sargeant Road Trail has been introduced. This new alternative, 100% on trail, significantly shortens the route to Waterloo by over 9 miles. While this alternate route bypasses the George Wyth State Park and campground, it compensates by featuring numerous resupply points.
Hike Your Hike. John